This post may contain affiliate links. Meaning, at no cost to you, I get a small percentage of the sale if you purchase after clicking. All proceeds will be used to help keep this site up and running and allow me to continue to create additional content. Thank you for your support!
I purchased this fabric from Raspberry Creek Fabrics knowing that I wanted to make us shirts for the 4th of July.  So when I saw that Katy from Wild and Wanderful was hosting the Sew Americana blog tour, I figured it would be the perfect kick in the butt to actually use the fabric as I intended.  And actually use it this year and not sometime in the future.  Do you ever do that?  Purchase fabric for a specific item and then not use it for a VERY long time?  Well, if so, then you are not alone….and neither am I, hopefully!
Let's talk about Owen's shirt first; since it's from a new to me pattern designer.  I asked in the Raspberry Creek Facebook group for suggestions on everyone's favorite basic t-shirt pattern for a boy.  I knew I wanted to make him a basic shirt with set in sleeves and not a raglan like I normally make.  Believe it or not, they do get a little boring after awhile.  
A few people suggested the Rowan Tee from Titchy Threads and I remembered the shirts that they made from this pattern, so I decided this would be the one.  So I purchased it, and got started.  
I'm so glad that I purchased this pattern.  Just like the ladies in the Facebook group said, it's a fantastic pattern!  The fit is spot on, it goes together quickly, easily, and has a few different options.  I made the option with no real options.  ha  But it also includes a hood, long sleeves, cuffed sleeves and hem, three pocket options, and my favorite, a shoulder and/or full arm stripe.  I'm thinking the arm stripe will be included in the next Rowan Tee that I make!
Next is Lillian and my tank tops….I used the Key West Tank for Girls from New Horizons for Lillian and the Key West Tank for Women for me.  (hint, check out the pinned post in their Facebook group for a code to make the pattern free!)  I chose the racerback, slim fit tank option for both of us as well.  Note that this option isn't shown on the pattern drawings, but it is included in the pattern pieces.  
For Lillian, I made a straight size 6 even though she is a little taller than the height listed and her waist is a little larger.  I just made sure that it would be long enough based off of the finished measurements chart.  It still seems to be a great fit, even without any adjustments.  She will most likely wear it with shorts, which I think will look better.  Our summer has decided to show up for a day here and there, and picture day it was definitely not summer, so she had to wear pants.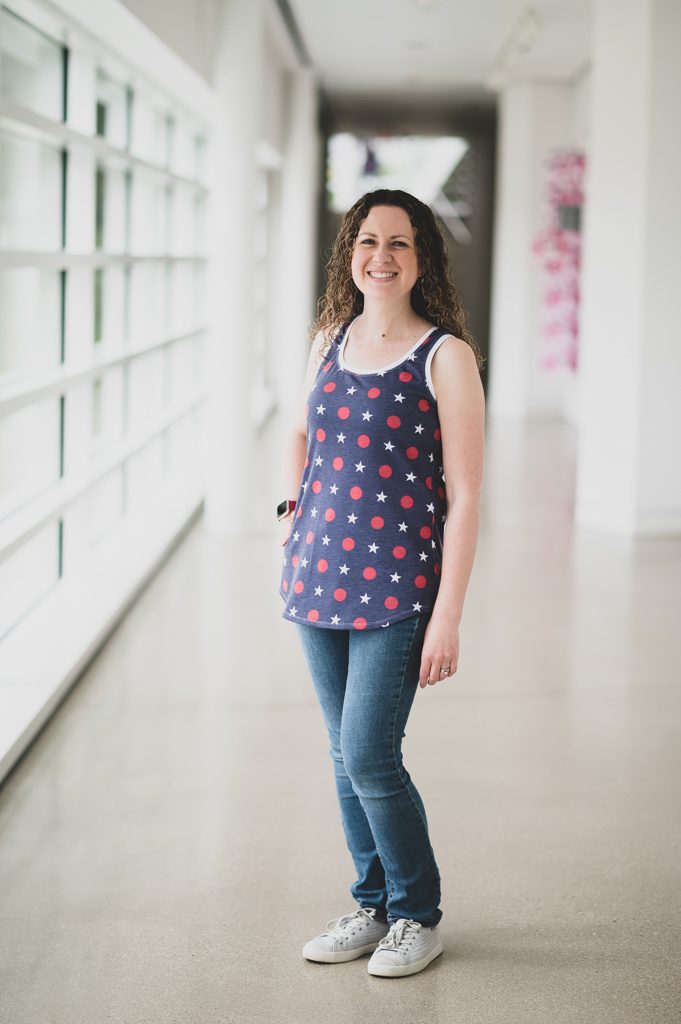 For mine, I used some poly rayon spandex french terry, so the stretch isn't as much as it is for the cotton lycra that I used for Lillian's shirt.  As mentioned, I used the slim fit tank option from the Key West Tank for Women from New Horizons.  This was my first time making this for myself and I probably should have shortened it.  I tend to like my shirts a little longer, so I don't always shorten shirt patterns.  With a banded bottom it usually works out just fine, but with the flow of this shirt, I think shortening it might have been a good idea.  I think it would lay better and in general fit a little better.  I will still wear this though!
Last minute and after we took our pictures, I decided to make Mark a shirt as well.  Unfortunately, I haven't been able to get any pictures of him wearing it.  I will try to get a few on the 4th of July and share on social media.
Also, did you realize that I just started a YouTube channel?  My next video will be about how to attach bands.  Specifically neck bands, but the concept works for arm bands as well.  Both Lillian and my shirt have three bands that needed to be attached, so doing it properly or not, can definitely make or break the shirt!  You can find the videos here on the blog or follow me on the Sewing Novice YouTube Channel. 
Don't forget to check out the other blogs for some truly amazing makes!