If you remember, I made the Keyka Lou City Tote for myself and one for my mom. The pattern was written in a way that it was very easy to follow, even for a beginner. There were a few things I had to look up, like what a dart was, but that was more for my understanding, not because I couldn't follow the pattern.
I am currently working on the Messenger Bag and so far it's just as easy to follow. So you should have no worries about trying out one of Michelle's patterns if you are new to sewing.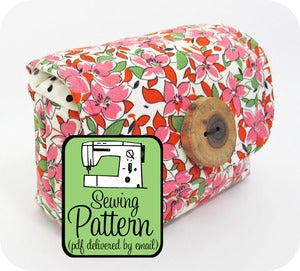 She is currently offering all of her patterns for only $5, because the month of April is her anniversary of running the company as her full time job. I think it's awesome that she is able to support herself (and now help support someone else, her assistant Bryanne) with selling patterns. So head on over to her online shop and see what you want to make for your next sewing project.
I am an affiliate of Keyka Lou, so I will be compensated if you purchase a pattern by clicking through to the shop.